Essentia Organic Mattress in Vancouver

Vancouver, a bustling west coast seaport in British Columbia, is among Canada's densest, most ethnically diverse cities. A popular filming location, it's surrounded by mountains, and also has thriving art, theater and music scenes. The Essentia Mattress store is located in Kitsilano, or Kits for short, which is a popular and very trendy part of Vancouver that's home to one of the city's best beaches and places to walk and cycle. You can easily locate the store in the heart of West 4th Avenue (between Arbutus St and Yew St), a hub for Kitsilano shopping and dining.
LOCATION
2144 W 4th Avenue
Vancouver, BC
V6K 1N6

HOURS
Monday: 10am - 6pm
Tuesday - Wednesday: CLOSED
Thursday: 11am - 7pm
Friday - Saturday: 10am - 6pm
Sunday: 11am - 6pm

CONTACT US
604-738-0321
vancouver@myessentia.com
 If you're looking for a healthy mattress, organic mattress, memory foam mattress, or latex mattress in Florida you'll want to stop by the Essentia store in Boca Raton in Sanborn Square. Featuring Essentia's patented Beyond Latex organic foam mattresses, it's an organic latex bed but with the comfort benefits of a memory foam mattress. Visit the Essentia store to see our organic mattresses for kids and adults as well as support pillows and even our natural dog beds. Everything you see on our website is here, just a short drive away from West Palm Beach and Fort Lauderdale. It's THE store in palm beach county for anyone serious about sleep.
From Downtown: Turn left onto Howe St and head Southwest for 1.2km, continue onto BC-99 S for 1 km and take the left exit toward 4th Ave W, keep right and follow signs for 4th Avenue W and merge onto W 4th Ave for 1.1 km, the you will see our storefront to your left between Arbutus St and Yew St, steps away from the Russian Community Center.
From the Downtown of North/West Vancouver: Head west on 13th St W toward E 13th St for 550m, continue onto W Keith Rd for 850m. Turn right onto Marine Dr and continue for 2.7km, take the British Columbia 99 S ramp to Vancouver for 550m and continue onto BC-1A/BC-99 for 5.3km.
You'll find yourself in downtown Vancouver, turn right onto Thurlow St for 950m, turn left onto Burnaby St for 210m, take Burrard St to the right and continue straight ahead for 1.3km. Once you cross the Burrard Street Bridge use the right 2 lanes to turn right onto Cornwall Ave and continue for 550m, then turn left onto Arbutus St and go south for 190m. At the roundabout, continue straight to stay on Arbutus St for an extra 300m, and finally turn right onto W 4th Ave, where you'll see the storefront on the left side of the street, in between Bayside furniture and BeautyBar.
Paid street parking or metered parking is available along all West 4th Avenue.
Small items such as pillows, sheets, and the Kingston pet bed may be available for pickup from our Boca Raton showroom based on availability. All other products such as our organic mattresses, foundations, and other items will be shipped to your home. Essentia is proud to offer 2 methods of shipping your order to your home. All orders ship for free to your door via FedEx. We also offer a White Glove Service delivery option for an additional $249, in which you will be called to schedule your delivery day and timeframe. Your new mattress will also be set up for you, and your old mattress removed if you so choose. You can read our delivery policy in full here.
Essentia does not accept returns or exchanges in our showrooms. Products eligible for return or exchanges are taken care of by our helpful Customer Care team, who can be reached via this contact form. All Essentia mattresses come with a 120-Night Sleep Trial. Most other items do come with a warranty but are not eligible for return. Learn more about returns here.
We are Proud to be Donating Mattresses to Covenant House's Rights of Passage Program

Helping making a difference with the homeless youths of Vancouver, Rights of Passage is an innovative transitional living program that addresses the long-term needs of at-risk, runaway and homeless kids who first come to Covenant House.

The goal is to help set these youths up with the skills and confidence to transition to independent living.
The Betterhood is Essentia's local community initiative. We are more than a mattress store, we strive to be a contributing member of our local communities. You'll often find us hosting events that highlight local charities, causes, local artists, and organizations that give back specifically to our South Florida community. We'd love for you to join us! Follow us on Facebook to stay up to date with all of our events, and feel free to email our Boca Raton showroom directly if you would like to get more involved with Betterhood.
Handmade with Care in Our Certified Organic Factory
Essentia proudly handcrafts our Beyond Latex™ organic foam in our GOLS and GOTS certified organic factory in Canada. We use only the highest quality natural and organic components to ensure your mattress isn't introducing toxins to your bedroom for a clean sleep environment. Essentia patented Beyond Latex™ organic foam mattresses are the only to score best at eliminating sleep interrupting stimulants, allowing you to expereince optimal Deep Sleep and REM sleep cycles.
Essentia's 7 key elements for rejuvenating sleep mean you will experience your most comfortable sleep ever so you can Rise & Thrive.
Meet Your Certified Essentia Sleep Expert
When you visit Essentia in the Kitsilano, you will be met by our friendly and knowledgeable sleep expert. Camila can answer all of your sleep concerns and help guide you to the Essentia model that best fits your needs and budget. In fact, we bet you didn't realize that Essentia's patented Beyond Latex™ organic foam is actually made with hevea milk (rubber tree sap), making it the most pressure-relieving latex foam! Don't settle for those petrochemical memory foams, going Essentia means you don't have to compromise comfort when making the Beyond Organic® choice.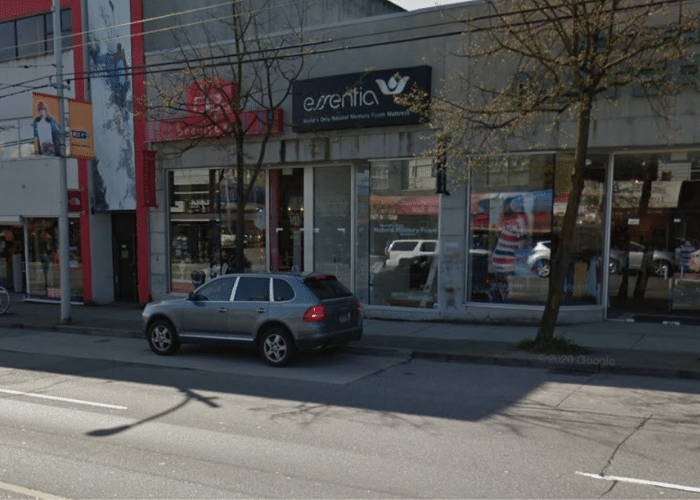 Your Local Shopping Experience
When you visit Essentia Vancouver, you benefit from the best offer available for an Essentia organic mattress. With specials running frequently, you will also find in-store exclusive offerings along with Essentia's 120-Night Mattress Sleep Trial, 20-Year Warranty on mattresses, and Free Shipping. Your certified sleep expert can also help you narrow down the models to the one that will suit your sleep needs and preferences the best.

Essentia Vancouver is currently following all local guidelines for Covid-19. Some enhanced health and safety measurements we're taking include increased cleaning throughout the store and sanitization of mattresses after each guest.
Ranked Top Foam Mattress 6 Years In A Row!
Essentia's Stratami Mattress Recommended by Consumer Reports.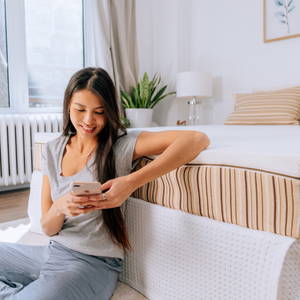 Book Your Private In-Store Shopping Experience Today
Essentia Vancouver is happy to accomodate private shopping times in our showroom. Give us a call to schedule your appointment today.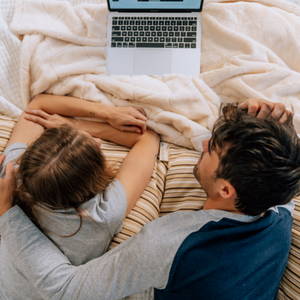 Get the Google Maps Directions to Essentia Vancouver
Simply click on the link below to go directly to the Google maps directions from your location to Essentia's Vancouver showroom.